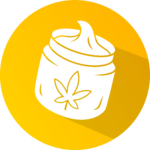 CBD-Rich Hemp Cream & More!
All of Bloom's hemp cream, hemp lotion, and hemp balms are CBD-rich and formulated to make a difference you can feel. If you're looking for the best CBD cream, look no further. Our CBD topicals are hand-crafted in small batches and 3rd-party lab-tested to ensure that your experience meets your expectations. CBD topicals are fantastic because they offer fast-acting, long-lasting, reliable relief. Hemp cream and hemp lotions provide an effective natural alternative to traditional topical solutions which often contain harmful ingredients and lack the healing properties hemp has to offer. If you need reliable topical relief, our CBD muscle rubs provide the support you need at a great value. Plus, all of our products are backed by our 30-day money-back guarantee. So, if you aren't satisfied with your experience, we'll refund your order.
For those who need CBD cream 1000mg or stronger, we've got you covered. Our hemp cream and CBD muscle rubs contain additional cannabinoids and terpenes to accelerate relief, enhance their support, and knock the competition out of the park. We also include active plant botanicals that work in conjunction with these cannabinoids and terpenes. So, why settle for other CBD muscle rubs when you can get more out of Bloom's hemp cream?
If you're seeking CBD cream 1000mg or stronger, you need the best CBD cream available. We recommend our Active Care Cream and our Muscle & Joint Therapy Cream because these hemp creams go beyond CBD and provide powerful relief that you can count on to help you keep going, regardless of what life throws your way.
If you're looking for the best hemp lotion, our CBD lotions contain 500mg of CBD which helps nourish the skin while working deep below the surface to help relieve the tension of sore muscles and joints. Hemp lotion is a must-have for anyone striving for a more natural skincare routine.
If you prefer a CBD salve, our powerful CBD soothing balm is the way to go. This balm contains 1000mg of CBD and 200mg of CBG to enhance its natural healing properties. While CBD cream 1000mg or stronger is ideal for muscle and joint relief, our 1000mg CBD balm is better for skin irritations, dryness, scrapes, and cuts.